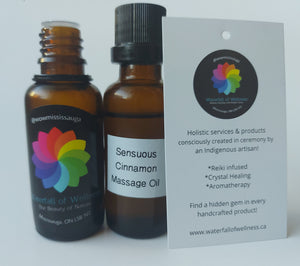 Waterfall of Wellness
Sensuous Cinnamon Massage Oil 30 mL
Regular price
$16.50
$0.00
Unit price
per
Show some love with this sweet and Sensuous Cinnamon massage oil. Allow yourself to connect with your body, being fully present. Enjoy every moment!  
 
Small batches are handcrafted in Mississauga and custom orders are available. This massage oil is a great addition to a date night or for self-love. 
 
*Reiki infused 
*Aromatherapy  
*Crystal Healing 
 
BONUS: Find hidden gems inside. This massage oil has crystal chips to amplify the intention and healing properties of the oils.
You can set an intention for your adventure by holding and/or visualizing the massage oil in your hands and however you feel comfortable or guided to send your energy/intention into the oil and crystals. You can say your intention out loud or in your mind. Grounding/Centering yourself may serve you well in this practice to tap into an authentic intention. 
  
 
Ingredients: Grapeseed Oil, Avocado Oil, Jojoba Golden Oil, Cinnamon Leaf Essential Oil. 
 
Grapeseed Oil Benefits: 
• Contains plenty of antioxidants, anti-microbial and anti-inflammatory properties that have been proven to accelerate the healing process. Ex. Omega fatty acids and vitamin E.  
• Moisturizes and improves the skin's overall elasticity by increasing collagen production. 
• Does not clog pores (non-comedogenic) and is considered hypoallergenic and is widely used by most skin types. 
• Tightens skin, prevents sun damage, lightens dark circles, decreases the appearance of fine  
lines/winkles/blemishes, fades scars, and reduces leakage in veins.  
• Moisturizes, soothes, hydrates, restores and nourishes irritated skin with high proteins, Sterolins (natural plant steroids), Vitamin D and potassium. 
• Slows aging process, stimulates collagen production, improves skin elasticity, lessens effects of sun damage and reduces scars/stretch marks as it contains the antioxidants, Beta-carotene, Vitamin A and Vitamin E.   
Jojoba Golden Oil Benefits: 
• Balances skin oil production, cleanses clogged pores and suitable for all skin types. 
• Prevents skin infections, treats skin disorders, protects/reduces skin inflammation and has antibacterial properties.  
• Provides many nutrients and antioxidants including Vitamin A, Vitamin E, Omega-6 Fatty Acids. 
Cinnamon Leaf Essential Oil Benefits: 
• Brings heat to sore muscles relieving pain and encouraging relaxation.  
• Improves digestion and stimulates circulation.  
• Carries anti-inflammatory, anti-bacterial, antiseptic, antimicrobial, antibiotic, antifungal, analgesic, antispasmodic, astringent, and aphrodisiac properties.  
• Enhances mood and reduces stress with warm, spicy scent.  
 
 
How to use:  
The first few drops may take a moment. Angle the bottle at roughly 135 degrees as if you are pouring a bottle of wine and the dropper will do the work allowing the oil to grace the skin gently. This massage oil is designed to encourage slow, sensuous massages. If the energy is more intense, you can remove the dropper to pour the oil out of the bottle. Apply a small amount of oil to the skin (or in your hands) and massage using a desired technique until the oil has absorbed. Start off slow and gentle then observe the response. Choose your own adventure! Have fun, relax, be open and playful. Enjoy the experience.  
TIPS:  
- Do a patch test first to ensure no sensitivities are present. If irritation occurs, please discontinue use.  
- This product formula is a 1% dilution. If the scent or sensation is too strong, it can be diluted by adding a desired amount of oil of choice (olive oil, coconut oil).  
- Please avoid eyes, mouth, genitals and any areas of sensitivity.  
- You can warm up the oil by rubbing the bottle between your hands to create friction. 
- Best stored in a cool, dry place and away from children and pets.  
- For external use only.   
- Shelf life is 6-8 months and it is best stored in the refrigerator. 
---